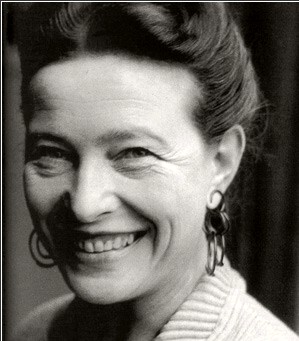 Simone Lucie Ernestine Marie Bertrand de Beauvoir was a French writer, intellectual, political activist. She had a significant influence on both feminist existentialism and feminist theory.
Born on 9 January 1908, she was known for her 1949 treatise, The Second Sex, a detailed analysis of women's oppression and a foundational tract of contemporary feminism. De Beauvoir was intellectually precocious, fueled by her father's encouragement; he reportedly would boast, "Simone thinks like a man!"
Writing of her youth in Memoirs of a Dutiful Daughter she said: "…my father's individualism and pagan ethical standards were in complete contrast to the rigidly moral conventionalism of my mother's teaching. This disequilibrium, which made my life a kind of endless disputation, is the main reason why I became an intellectual."
It is believed that in one of the interviews De Beauvoir said: "No woman should be authorised to stay at home to bring up her children. Society should be totally different. Women should not have that choice, precisely because if there is such a choice, too many women will make that one. It is a way of forcing women in a certain direction."
First published in 1949 in French as Le Deuxième Sexe, turns the existentialist mantra that existence precedes essence into a feminist one: "One is not born but becomes a woman" (French: "On ne naît pas femme, on le devient")
De Beauvoir defines women as the "second sex" because women are defined in relation to men. De Beauvoir asserted that women are as capable of choice as men, and thus can choose to elevate themselves.
De Beauvoir argued that men had made women the "Other" in society by application of a false aura of "mystery" around them. She argued that men used this as an excuse not to understand women or their problems and not to help them, and that this stereotyping was always done in societies by the group higher in the hierarchy to the group lower in the hierarchy.
She wrote that a similar kind of oppression by hierarchy also happened in other categories of identity, such as race, class, and religion, but she claimed that it was nowhere more true than with gender in which men stereotyped women and used it as an excuse to organize society into a patriarchy.
De Beauvoir also wrote a four-volume autobiography, consisting of: Memoirs of a Dutiful Daughter; The Prime of Life; Force of Circumstance (sometimes published in two volumes in English translation: After the War and Hard Times); and All Said and Done.
Some of her notable works are: She Came to Stay, her first philosophical essay, Pyrrhus et Cinéas, a discussion of an existentialist ethics, Les Temps modernes, The Mandarins that won her France's highest literary prize, Le Prix Goncourt.
Studying De Beauvoir's work during my Masters gave me an insight on how women subtly were dealing with Feminism in their days. It also highlights the fact that language is no barrier and translation works are widely read and taught.
I am taking my blog to the next level with Blogchatter's #MyFriendAlexa